Voyageur Values: How École Champs Vallée Transformed a Vision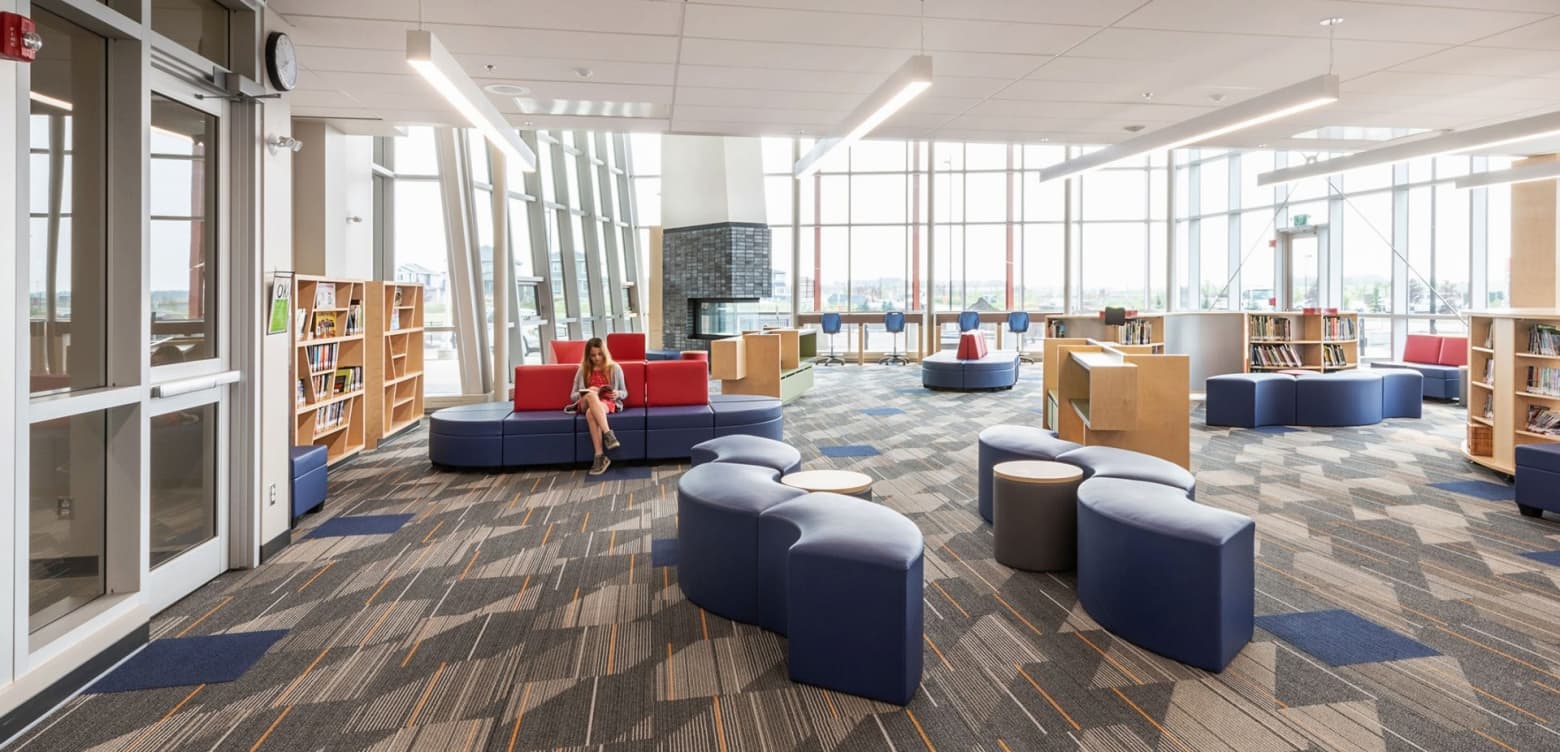 When the newly constructed École Champs Vallée School in Beaumont, Alberta was originally slated for construction, the school's values were front and center, "committed to meeting the needs of every learner and teacher in the space." So dedicated to this spirit, the entire design is in fact a celebration of learning through movement, something not traditionally associated with school and classrooms.

With a passionate school administrator dedicated to empowering students in the classroom and showcasing the school's key value that all students are capable of learning, CDI was the perfect choice to outfit the new building. Collaborating on the project several years prior to the start of construction, the partnership evolved as the journey progressed. The collaborative partnership was key in ensuring the spaces encapsulated the history, vision, and values of the school. With a shared value of student-centered learning, CDI realized the customer's vision by fostering learning through movement in the classroom for teachers and, more importantly, for students.

'Voyageurs are encouraged to take healthy risks and stay dedicated to their learning while welcoming new challenges.'
École Champs Vallée School Voyageur Values
Learning Through Movement
Informing the furniture placement and design is the value that within every student there is a learner; with part of the school's role to nourish that learner, embodied with confidence, empowerment, and drive.

This vision helped to frame the school classrooms, with CDI adding furniture designed to be rotational and flexible. Students can choose to work alone or together, easily shifting tables and chairs to accommodate their learning choices. This student autonomy helps to achieve the school's outcomes, by respecting differences and embracing every learner's unique principles and needs.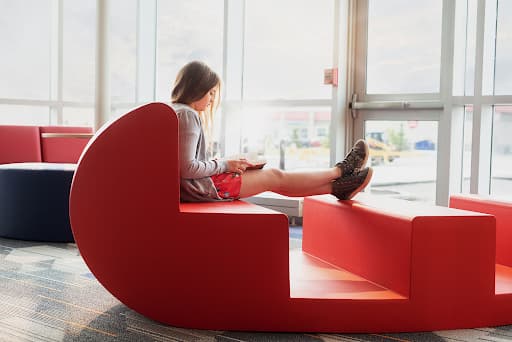 While the furniture was built to move, consideration was also given to students who needed to move, through rocking chairs, wobble stools, stand-up areas, and even soft seating in the classroom, providing an environment accommodating of different learning styles and requirements.

With so many options and configurations purposely available through cutting-edge design incorporated throughout the school, the school's values of inclusivity and acceptance are lived every day, and easily maintained in a welcoming environment.
Confidence, Connection, and…Canoes?
Elevating student confidence comes through establishing a welcoming and comfortable place, providing encouragement to feel at home and be one's true self. With the warm and open spaces located throughout the school, students feel comfortable and confident, living with the freedom to choose their path to knowledge and discovery.

The gathering areas encourage camaraderie and community, with flexible soft seating that can be uniquely configured based on student needs. The furniture is covered with durable vinyl that can be easily wiped down, encouraging security within the space, with no fear of damaging the environment. This freedom also translates to the classroom, with whiteboard tables in everyone, allowing for collaboration and connection between the students.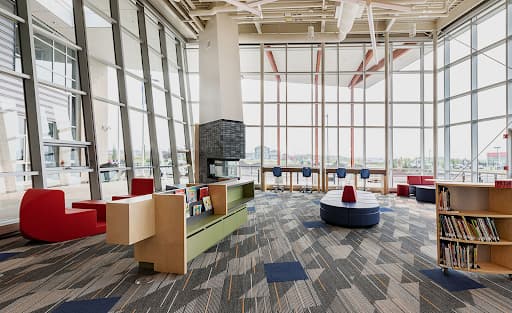 "At CDI, we value every customer's unique needs. We don't think of ourselves as just a furniture supplier, but rather we are on a journey with our customer to meet the needs of every learner and every teacher," said Craig Ward, Student-Centered Classroom Consultant at CDI.

So committed to this principle is CDI, that when École Champs Vallée asked for canoes in the learning commons that the students can sit and work on, they found a way to make it happen. The school's mascot and logo is that of a Voyageur, inspired by the First Nations, Metis, early French Canadian and European inhabitants, and travelers of Canada, who undoubtedly used canoes to explore new and remote areas. As the students are able to see this lived value every day, they too can feel inspired to pave the way, taking risks and uncovering new territory, within their environment and within themselves.
Honoring Heritage
Honoring the location's heritage through the Vallee name, a Quebec family who settled early in the area and played an active role in building the town, students can cultivate their own success by feeling empowered, supported, and most of all, seen and heard.

Through every hallway, every gathering space, and every classroom, unique learning needs are recognized, celebrated, championed, and cherished. Among the confines of this impressive new school within the Beaumont community, students and teachers alike are thriving, a sign of true Voyageurs indeed.
Ready to get started? Meet with a CDI design consultant today.