Learning is Everywhere: Thinking Outside the Classroom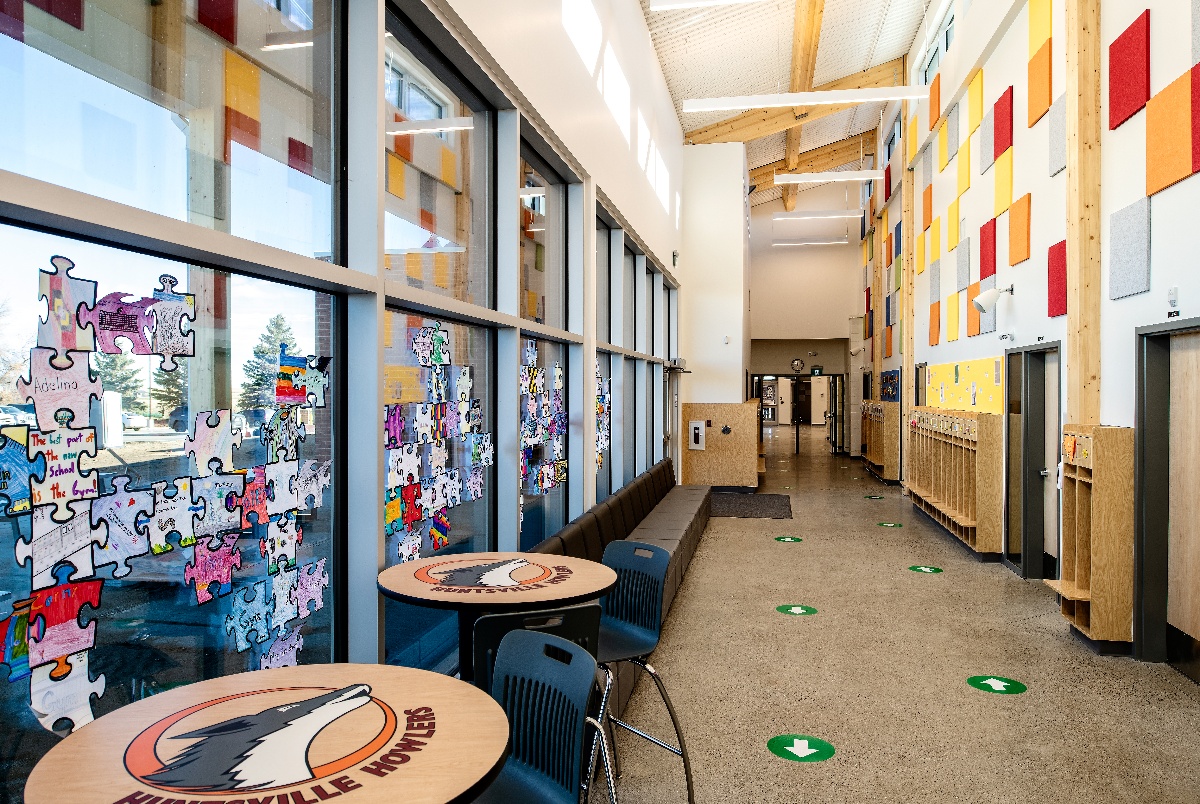 In 2020, Huntsville School was facing a challenge. With a new school building nearing completion, and a desire to ensure the space was outfitted to boost student learning, they knew they needed help to add furniture in just the right way.

While the school added learning spaces and square feet with the new school build, the key principle of focus for the outfitting project was optimization in order to encourage learning in non-traditional expanses and create multipurpose areas. With Huntsville being a K-12 school, it was already accommodating many different ages and stages under one roof.

Huntsville School has 3 educational beliefs:
We believe that working cooperatively is necessary to achieve excellence.
We believe that all learners are individuals who can succeed and grow.
We believe that to achieve excellence we must set high expectations.
While at first glance, you might think this is a tall ask of furniture, but , CDI delivered, using innovative products to maximize usage and enhance connections within every area of the school. "In years past, traditional schools served one purpose, which was classroom learning. Today's schools are tasked with approaching learning in multiple ways, both inside and outside of the classroom," says Craig Ward, Student-Centered Classroom Consultant, CDI.

With CDI having successfully supported other projects within the school division, the partnership was a good match from the start. Leveraging deep industry knowledge, the CDI team helped to guide the school through the design, collaborating every step of the way through interactive presentations, consultative discussions, and demonstrating a true understanding of the school's needs.

"Right from the beginning, CDI's presentations involved flexible learning, flexible seating options, different classroom designs, and ways to utilize learning spaces", says Huntsville School Principal, Chris Spanos. "They were built into regular ongoing conversations as we looked at outfitting the classroom and school spaces."

Anchored in the belief that space matters, CDI leaned into creating inspiring, student-centered spaces that boost learning, productivity, and engagement. The end result? A unique and innovative environment, with interiors that facilitate connection, discovery, development, and study.

Thinking outside the classroom to open up possibilities of learning, the commons area, pod spaces, and even hallways were treated with deliberate designs in order to encourage participation and student engagement.

With writable and moveable walls already in place to emphasize that learning happens in multiple spaces, hallways saw booths set up with whiteboard tables so students could use them as an extension of their classroom, or simply to collaborate with one another.

Pod spaces popped up everywhere, utilized for small-group learning and core course instruction for all age groups.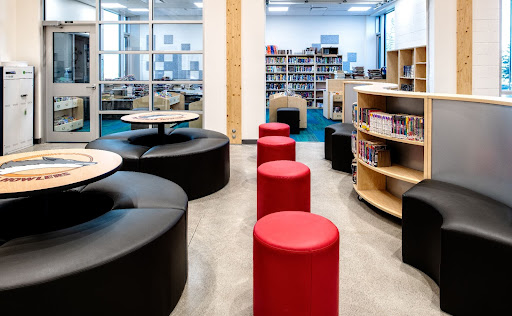 Using flexible furniture to outfit multiple rooms allowed for consistency in look and feel, while the dynamic capabilities meant different design outcomes that could be tailored to the unique learning needs of students.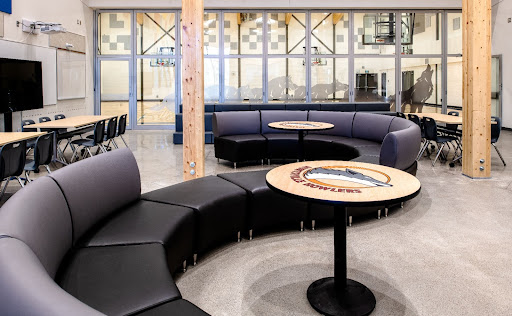 School classrooms became multi-taskers, with tabletops in the shape of trapezoids with multiple configurations based on learning objectives introduced to enhance collaboration.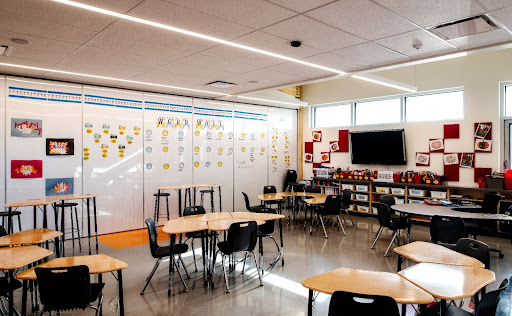 Science and project spaces were outfitted with whiteboard table tops that move depending on the space's needs, while furniture in the shapes of circles, S curves, and partial curves were added as workspaces.
Even seating options received a revamp, with typical chairs combined with rocker chairs, wobble stools, and stand-up options in multiple classrooms.
Prevalent throughout the design process was dialogue around how to best utilize the spaces for optimal learning, with unique yet simple changes going the extra mile to make a world of difference. What was once a blank canvas became a story of design brilliance, emphasizing school values such as working collaboratively, enhanced instructional delivery, and flexible groupings.
The Huntsville School outfitting project is a testament that with the right design and thoughtful furnishing plan, maximizing space and creating multi-purpose areas can allow for a truly welcoming environment where students and teachers alike can thrive.
Ready to get started? Meet with a CDI design consultant today.