St. Thomas Aquinas School: A Space to Succeed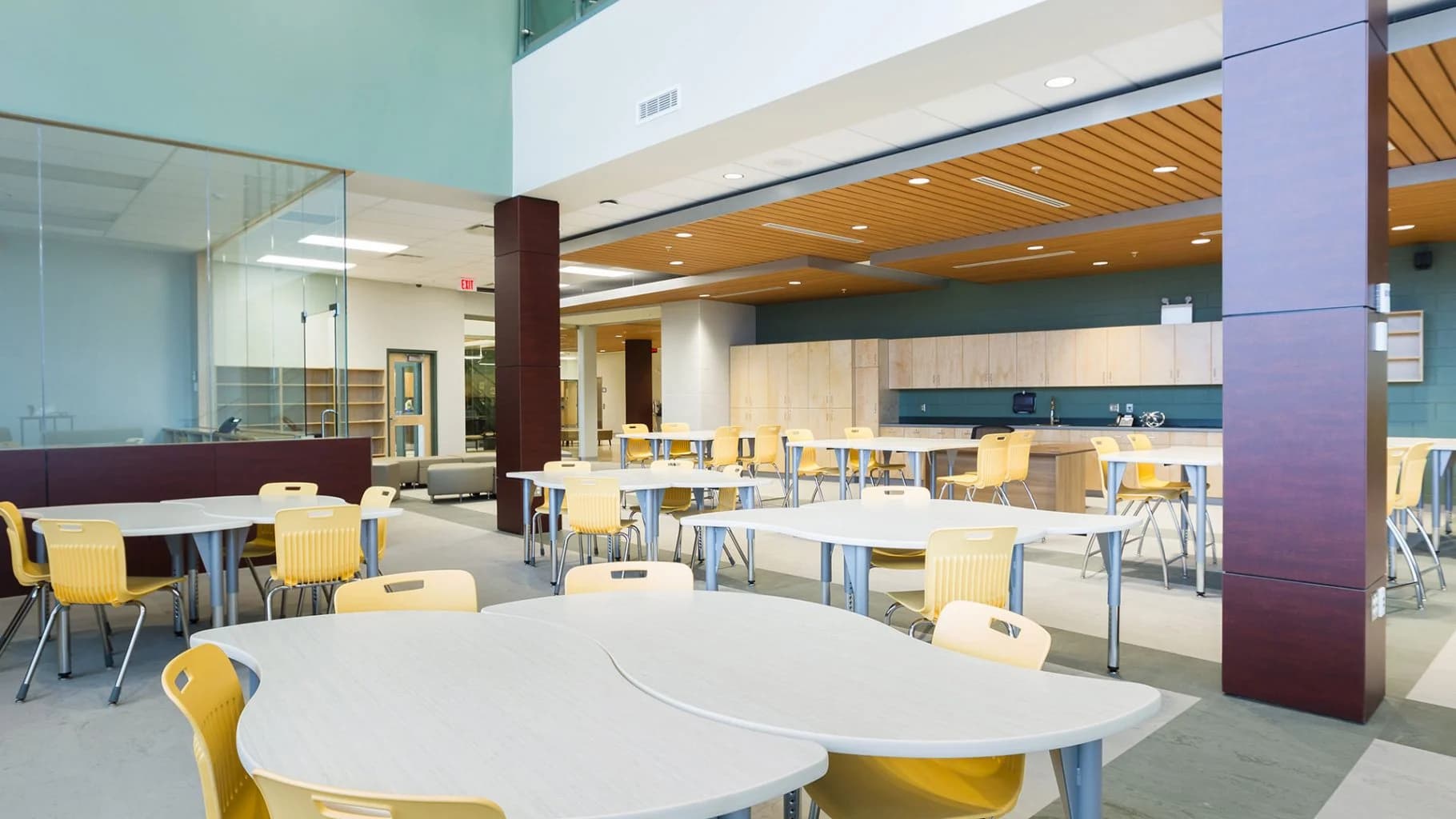 With a history of implementing student-centered design and a track record of transforming customer vision into reality, CDI was pleased to partner on the new construction of St. Thomas Aquinas, a Catholic Elementary and Junior school slated to be built in South Edmonton, Alberta.

Encouraging the consultative process it is known for, CDI allowed ample time for discussions and feedback to ensure perfect alignment. What transpired is an impressive building, replete with flexible gathering spaces, school colors incorporated throughout, and a space where both learners and teachers are empowered, active, and engaged.
A Focus on Flexibility
One of the main objectives of St.Thomas Aquinas was a focus on creating flexible gathering spaces throughout the school, from lunch to learning to working. Throughout the school, flexible and modular furniture was used to transform the environment into dynamic spaces where students could collaborate and interact within minutes.

The open gathering areas have comfortable soft seating that can easily be moved to adjust collaboration requirements, while the classrooms have flip-top tables - offering increased flexibility. These tables can seamlessly be flipped up and moved around, put together to make a big table, split apart to create individual tables, and can even flip and nest when not in use.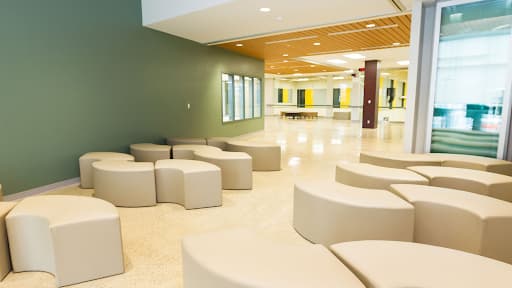 The science room was even configured to accommodate stadium-type seating to allow for good sightlines, utilizing various heights of tables split between rows. Allowing for standing areas throughout, combined with the varied table heights means when a teacher is presenting, learners are actively engaged and focused, given the flexible design and layout.
Supporting Staff
St. Thomas Aquinas' mission is to inspire students to be collaborative, critical thinkers and ethical citizens through interactive, hands-on learning experiences. In fact, directly woven into the school's mission statement is the commitment of the staff to inspire the learners, a shared belief of CDI. 'I learned early on never to forget about the teachers. Our designs have to meet the needs of not only every learner but every teacher as well', says Craig Ward, Student-Centered Classroom Consultant at CDI.

This reminder of the importance of staff and teachers within the overall design is apparent everywhere you look in the school. Included within the drawings was an impressive staff lounge, complete with reconfigurable seating to embrace community and facilitate connection. Even the library has modular bookshelves, so the librarian can reconfigure the shape within minutes.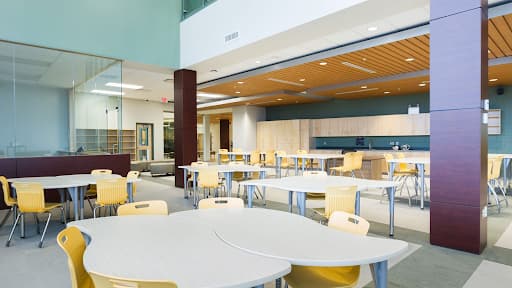 The classrooms allow for teachers' maximum comfort and flexibility, accommodating both standing and sitting desks. The flexible structure of the classrooms also means set-up can be tailored to each teacher's unique needs and pedagogical style. In fact, the furniture is so adjustable that two teachers could be given the exact same furniture for their classrooms, with completely different configurations and outcomes depending on their requirements.

It is in this spirit that CDI recognizes the value that each educator brings to their classroom, incorporating their preferences and priorities every step of the way. Beyond this, CDI offers extensive training on furniture use and configuration, ensuring that teachers are knowledgeable and confident in leveraging innovative design solutions that inspire student learning.
Embracing Everyone
Prioritizing the student-teacher relationship through purposeful design is evident throughout each space, and the school couldn't be happier with the outcome.

The end result of this collaborative design process is a striking school; one that embraces every individual who walks through the door. Spaces created to grow with each learner allow for maximum use and flexibility, while teachers feel seen, heard, and valued. Combined together, you have a place where both learners and teachers can flourish and succeed, developing and inspiring the leaders of the future.
Ready to get started? Meet with a CDI design consultant today.