Our Top Five Hybrid Working Furniture Solutions for Your Office Transition.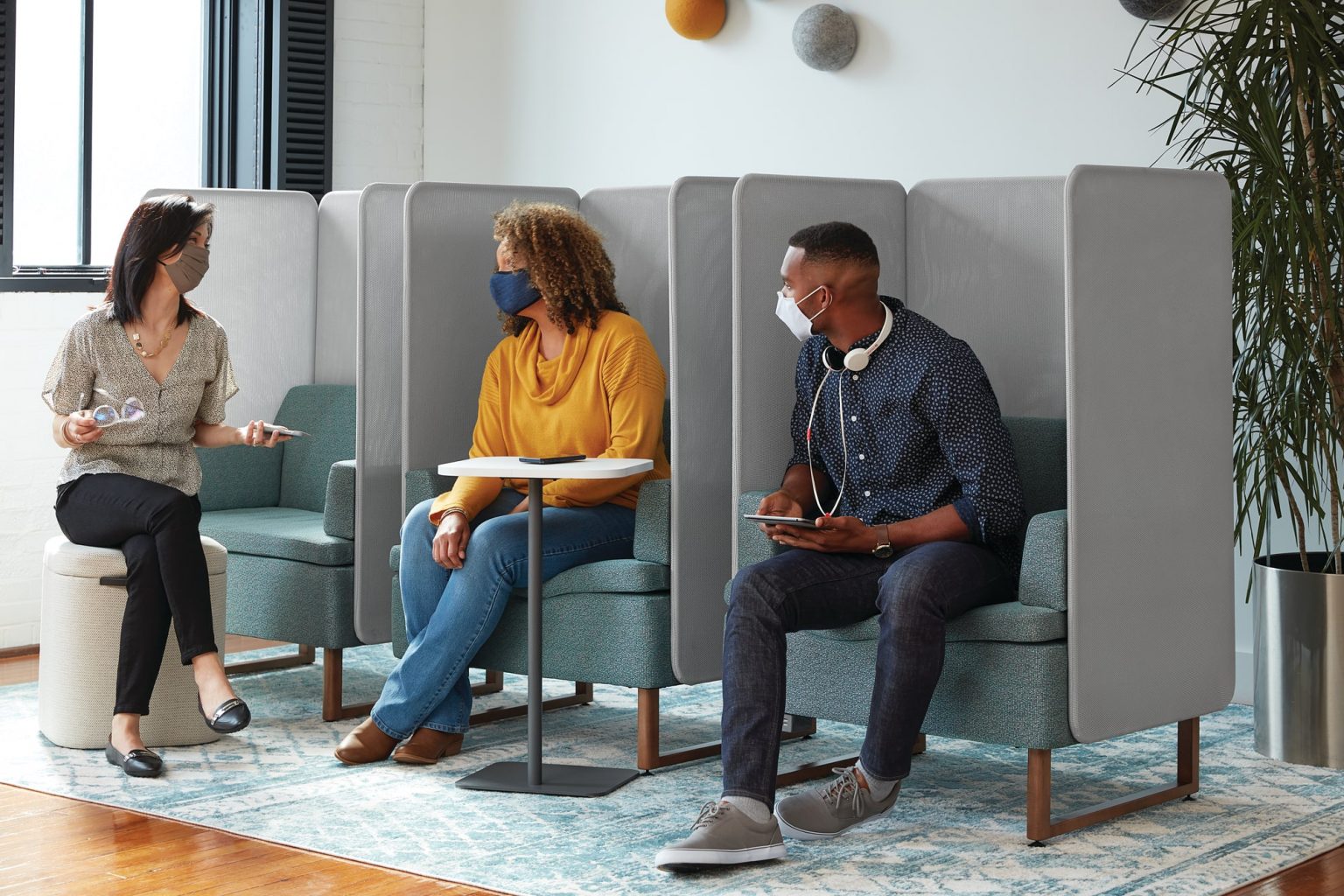 Hybrid working has been a common trend changing the office structure over the last few years, with an exponential increased need over this past year. As we endeavor to navigate our new normal and new balance of working while still being COVID compliant, flexible and efficient, we have highlighted some of our best hybrid working furniture solutions to make the transition for your company as smooth as possible.
These furniture solutions are aimed to help reduce; in office contact points, lessen the cleaning and sanitization time. give private works spaces for distraction free working, and limit the numbers of in person meetings while still giving a central space for teams to work effectively together. And while team members do not have dedicated desks, or assigned seating, ensuring we are thinking about the small details that are often overlooked when transitioning the office to the future new work style.
Employee Lockers
Lockers and safe storage solutions are an important need for staff, but often overlooked. Giving staff a safe and convenient storage solution that are intuitive, user friendly without technical issues are an important piece of the hybrid office. The Align Locker by Allsteel can either be permanently assigned or reassigned daily with simple resets as needed. Freeing up staff from having to carry all essential working and personal materials, such as photos, keeping the personal touch, back and forth from the office. This also reduces traffic to gather common items as much as possible.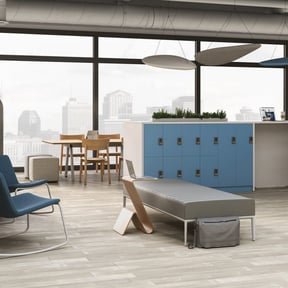 Privacy Lounge Seating
A private seating area where staff can work, make phone calls, and let others know they do not want to be interrupted at this time are a very helpful tool in the hybrid office. One of the common highlights we hear about working from home are the reductions in interruptions. While pets and kids may join zoom meetings, staff working from home tend to not be interrupted as much as in the office with quick "how-do-1", being pulled into last minute meetings, or wondering where the favourite stapler has been moved to. Having a clear area to work and not be interrupted will be essential piece moving forward in the hybrid work office. 'The HON Astir is a comfortable and stylish private working solution.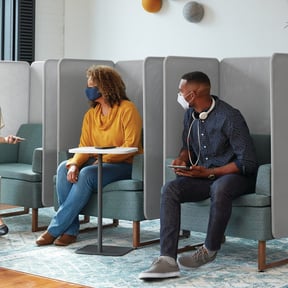 Mobile Acoustic Touch Down Zone
Nook Pods are a wonderful solution for mobile private or individual meetings. A quiet zoom call, one on one or client meeting they keep numbers small and intimate. There are many customizations and options available with the Nook Pod, from lighting, power, and even brainstorming tools like white boards. There is a Nook Pod solution for every office.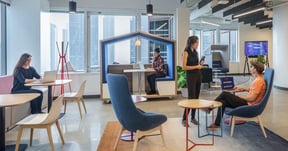 Central Waste/Recycling Centers
As we are working to reduce touch points. An essential part of the office is sanitization and garbage collection. Lunches are now consumed at a distance, and desks are chosen for the day, it is critical to have a functional garbage and recycling system. The Artopex Axel2 not only, functionally collects waste, it fits seamlessly in the office design.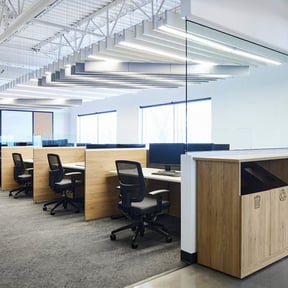 Freestanding Space Division
A pavilion like the Beyond series from Allsteel is a gorgeous design element to add a comfortable private work setting and reduce meeting numbers. While completely flexible to meet the needs of your office, it's a brilliant element for the hybrid working office to add beauty and functionality.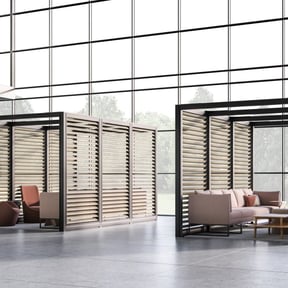 To learn more about Hybrid Working and how our consultative approach can prepare you and your office moving forward visit cdispaces.ca or email customerservice@cdispaces.ca, click contact us, or submit a quote. And check out our social media accounts, we are always sharing new ideas and ways to make your office more efficient and flexible moving forward!